Welcome to Shelterluv!
We're excited to empower you to work more efficiently so you can
spend less time on data entry and more time on your lifesaving programs!
Here is an overview of what is included in the New User Training Guide
Here are some tips to get you started!
Getting Acquainted with Shelterluv
Getting Your Account Configured
You can launch short videos describing our features or read more in our Help Center! Below is a quick demo of how you can launch available videos. We hope this helps you get the most out of your Shelterluv account.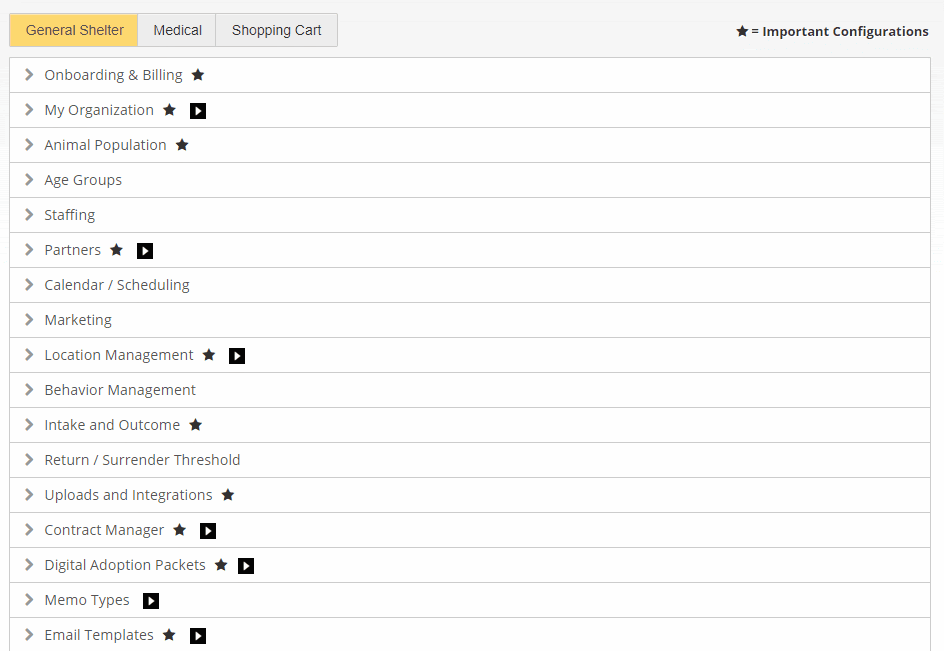 Setting up text to checkout credit card processing through Shelterluv
Statuses and Locations:
Statuses - Best practices for configuring Statuses
Locations - Adding/editing shelter locations
Intake and Outcome:
Intake and Outcome Forms - Setting up your outcome forms and subtypes
Intake and Outcome Subtypes - Setting up your intake forms and subtypes
Medical Configurations - Basic medical configuration overview
Quick Fill Templates
Vaccines - Vaccines configuration
Treatments - How do I use quick fills in treatments?
Veterinarian E-Signatures - How do I add my vet's electronic signature?
Accounting/Shopping Cart
Adoption Groups Setting up adoption price groups
Non-Adoption Shopping Items - Setting up non-adoption shopping cart items
Departments, Funds - Best Practices for Accounting and Shopping Cart Configuration
Adoption, Integrations, Microchips
Microchip Registration - Uploading to microchip registries
Adoption Aggregates - Uploading animals to aggregators of adoptable animals
Integrations - What other services integrate with Shelterluv?
A more detailed look at each configuration can be found in the Shelterluv Configuration Guide.
Recommended Articles By Role
Admissions
Adoptions
Foster
Medical
Reporting
If you'd like to schedule a training session for your team with our support staff, please email help@shelterluv.com.